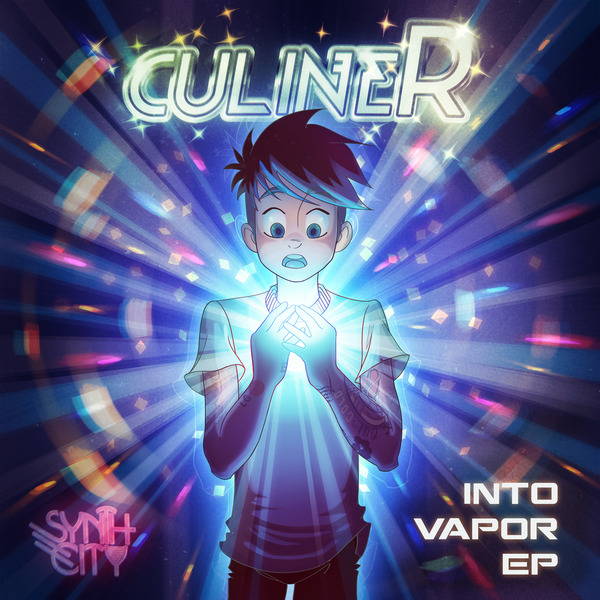 TRACKLIST
1. Into Vapor feat. Sisely Treasure
2. Your Soul Calls Out feat. FUTR3
3. Emerald Explosions
4. FreakN Out!
5. Into Vapor feat. Sisely Treasure (Gosteffects Remix)

ABOUT
Devon Culiner, aka culineR, is a Miami native only recently transplanted to Downtown LA, finding "the scene amazing and an experience to say the least". Surrounded by the vibrant culture and personalities that define the LA scene, culineR is clearly in his element, continuously inspired by the creativity and innovation of the dynamic Downtown LA community.
Considered by many to be a musical prodigy, culineR has been writing and producing music since the age of 14, both in his own bands and for others; this broad experience is reflected in the polished sound and diversity of his tracks.
His debut EP, Into Vapor, released through Synth City Records, has been variously described as '(dance music) for all dance music lovers', 'top notch and amazing', and 'some of the most groundbreaking sh*t I've heard in a while', and this by his peers.; fans are sure to be enchanted by the optimistic tone and compelling beats on such songs as the title track, 'Into Vapor' featuring Sisely Treasure and 'Your Soul Calls Out' featuring FUTR3.
For more quality releases like this one please visit www.synthcity.net
Q & A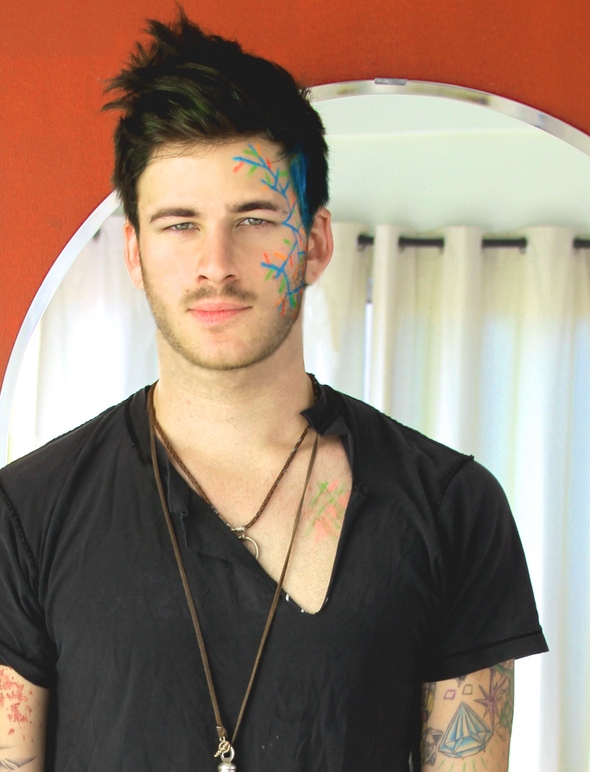 Where do you live and how would you describe the scene there?
I live in a place where a block away from me is a pleasure emporium, an awesome bar, a pizza joint that stays open till 4am and screeching zombies in the middle of the night. I live in  Downtown LA. The scene is amazing and an experience to say the least.
Where are you from and how is the scene there different?
I'm from Miami FL and the scene in Miami compared to Downtown LA would simply be the lack of innovation and amazing people whom you'd meet every single day in DTLA. Of course, the weather isn't as nice in Miami but there are some bright sides to it, The beach scene simply being one of them. Theres nothing like a swan dive into the pool of a South Beach Hotel or beach!
How has this influenced your style?
I would say it has influenced my music more than my style. My style has always been all over the place with a hint of my own style throughout,(if that makes any sense). I'm constantly writing music that is influenced by so many different things on a subconscious level, mainly.  It would be a hard question to answer.
How would you describe your sound?
Mainstream with a hint of underground or Eccentric,  moody, hard and typically upbeat. It's like describing a fine wine, Blackberry and chocolate don't exist in the ingredients yet that's how a sommelier would describe a wine's flavor.
How did you come up with your name?
A friend of mine released a song called "Glowing Owl" on his label. It was the first song I "officially" released as culineR. I called myself DLUXXX before and I'm not exactly sure why but my friend said you have to just be "culineR" if you want to BRO-DOWN(not an actual quote)! So, naturally, I said "of course"!
Over the years what progression of dance music genres have you fallen in love with to bring you to where you are now?
I can honestly say I love most genres of dance music! From Deep House and Minimal to Trap and Drum N Bass! I've always been able to find what it is people appreciate in different genres. Because of finding an appreciation for most genres throughout the years, I feel it's what makes me a producer today.
Who would you say are your major influences?
I'm sure subconsciously, I'm influenced by artists music such as Jonsi, Depeche Mode,Flying Lotus, Gesafelstein. But truly, I'm influenced by certain friends who have been successful and I'm more influenced by their work ethic and how hard they push to get what it is they've always wanted as well as how passionate they become as the puzzle pieces fit together. To me that's more of a major influence.
How did you get into making music?
I've been technically writing music since I was 14 or so. I was always in bands throughout most of my life and I've always written for them. In fact, a band in Miami to this day (10 years later) are still playing songs I've written. I don't know why but i guess they love them! I kind of just fell into writing and the love just grew as the years went by.
What do you use to make music?
I produce on strictly a laptop with ableton live, some plug-ins, and a nice old pair of sennheiser headphones. Just gotten used to it this way.
What process do you go thru to make a track?
I always switch it up. It's whatever mood or type of song i feel like writing that's the deciding factor on the process. However, I typically start with writing a cool chorus or drop and if Iove it after playing it back 12,000 times, then I will start laying in the rest of the structure. As far as what instrumentation comes first, theres just no order.
How do you decide which tracks to play when DJing to get the dance floor jumping?
Well, depending on what type of party it is, usually decides the variations of my set. I've never played the exact same set, even once.  You know instantaneously whether or not you can play some weird stuff like some soft core porn music or something. I usually hope for an open minded crowd because it lets me test not only a lot of the songs I've written and uncertain about but again, just some unorthodox songs.
How long have you been producing and or Djing?
I've been producing for my bands for close to 10 years, For other artists, 2 years and now religiously for myself, a little over a year. The experience I believe is there as far as producing and writing goes but I just never sat down and said okay, it's my turn, until 2012.
I've been djing for about a year as well.
VIDEO
I can't take this EP off repeat. I'm addicted! -­‐ Meliss FX 
This EP is for all dance music lovers, it's got a pop vibe with a wicked bass drive! -­‐ Jumpshot

I've literally had people stop and ask me where they can find this. It's seriously top notch and amazing – Bul!m!atron!
Guaranteed bangin' trackz from culineR. Some of the most groundbreaking shit I've heard in a while. -­‐ Obsidian
Show some love for Synth City:
www.synthcity.net
https://www.facebook.com/synthcityrecords
https://soundcloud.com/synthcityrecords
https://twitter.com/synthcitymusic 
Show some love for the artist:
Coming Soon from Synth City Records
"North By Northwest" by Nonplus – Remix by John Tejada