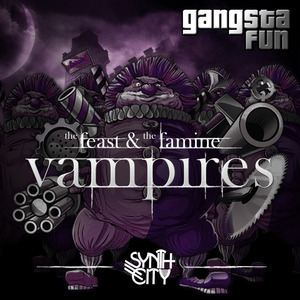 TRACKLIST
Vampires: The Feast & The Famine (Feast Mix)
Vampires: The Feast & The Famine (Famine Mix)
ABOUT
Gangsta Fun is a hard hitting dubstep DJ/Producer from the glorious town of Baltimore. He has had over 50 releases of his own on labels such as Figure's Doom Music, Faust & Shortee's Heavy Artillery Recordings and UK Imprints Bassclash Records. He is best known for his bass-heavy dancefloor style remixes of top selling artists such as Flo Rida, Eminem and Gorillaz. Gangsta Fun has received DJ support for his productions from prominent artists such as Rusko, Datsik and Doctor P.
Synth City is proud to bring you Gangsta Fun's newest creation "Vampires : The Feast & The Famine". These two tracks compliment each other to tell a story contrasting the broad spectrum of emotions that a society of vampires experience, between the point when they are free to gorge themselves on an abundant supply of human subjects, after which they realize that their only source of sustainable food is dwindling and they will all soon begin to succumb to their own decay.
As we come to the end of civilization as we know it brace your ears for The Feast & The Famine!
For more quality releases like this one please visit www.synthcity.net
How would you describe your sound?
Like if you handed chainsaws to a pair of rabid housecats who were trying to fight their way out of a burlap sack! Haha! Na just kidding! My sound is a culmination of the influences I've had throughout my life as a musician. As an avid music listener, I enjoy many styles and genres ranging from, but not limited to, Rock and Pop, Hip-Hop and Alternative, Electronic and Jazz. I pretty much like anything that has a bangin' beat and syncopated rhythms. As for my productions, I tend to gravitate more towards my Heavy Metal and Hip-Hop influenced roots. These are the styles of music I identified the most with as I was growing up. Basically, it's all about making music that has that "head nod" feel to it! If it makes you move while you're in the studio producing it, it will most likely have a similar effect when you show it to others. Always try to remember, it's a great rule of thumb to have your audience in mind when hitting the studio for your next banger!
Who are your favorite artists to listen to while driving?
Believe it or not, I like to flip through the radio stations quite often while I'm driving. I feel this gives me a unique perspective on what's going on in the music world, and it usually inspires me to incorporate many elements into my music which I would not have considered had I been choosing my own playlists. When I do break out the iPhone to check out some DJ mixes, I find myself listening to a lot of the "Essential Mix" and "In New 1xta DJ's We Trust" mix sessions which were released a while back from UK radio station, 1xtra. Many artists featured on this mix series such as Rusko, Redlight, Skream & Benga have been some of the biggest influences for me in the Dubstep genre to date. Plus the mixes were usually around 3 hours long, making them great for long car rides.
Over the years what progression of dance music genres have you fallen in love with to bring you to where you are now?
I'm definitely a big fan of the way Dubstep has been progressing over the past few years. It seems like it started out as more of an underground thing, but today is heard in commercials, movie soundtracks, you name it! The main thing that attracted me to Dubstep in the first place was the many elements that are similar to those found in Drum & Bass. Being one of my all-time favorite genres of music, Drum & Bass is another form of music that I find incredibly open to the concepts of progression. I've always been a huge fan of music with heavy amounts of bass, which is why I believe I find Dubstep and Drum & Bass so appealing.
 
How long have you been producing and or Djing?
I've been DJing for just over 12 years now, and producing music for around 15 years.
What do you love about performing and what are your favorite gigs?
What I really like about DJing is the opportunity to perform in front of an ever-changing demographic of listeners. Every single show is a different experience from the last, and no two shows are ever the same. My favorite gigs are definitely the ones that feel like you're in some sort of a movie scene… You know… the ones where the lights are going crazy, everyone is having a great time, and nobody cares about the drama! Those are by far the best and most memorable gigs for me.
How did you get into making music?
I originally started by learning to play electric guitar and bass guitar when I was in high school. From there, I began producing my own music utilizing a double-deck cassette tape recorder with an auxiliary hookup for my guitars, and layering guitar riffs over some of my earliest electronically produced drum beats. I believe this is where my passion for creating my own original music was born. Ever since that experience, I have had music on my mind all day, every day!
What do you use to make music?
I currently use Propellerhead's Reason 5 music production software, along with Sound Forge 6.0 for sound editing, and T-Racks analog mastering software.
How do you decide which tracks to play when DJing to get the dance floor jumping?
I let the crowd decide what I play at my shows! Sounds crazy? Let me clarify. I have a host of tracks all ready to drop at a moment's notice, but to decide which tracks to drop when, I tune into the vibes of the crowd and they usually tell me what they're ready for by their reactions. I guess you could say I take a spiritual approach to track selection, so it should come as no surprise when I say that I actually don't even know what I'm going to play at any given performance.
Who is your favorite DJ right now and why?
My favorite DJ at the moment is Rusko, hands down! In a time where there are countless numbers of talented artists and amazing DJ's being discovered every day, I believe he stands out as one of the most well-rounded with his charismatic and engaging DJ persona. The reason I chose Rusko for this one is because I often model my own DJ performance after his live acts. He has a certain "wow factor" that I can really identify with. To put it into words… If you believe in what you're doing, you can achieve anything you set your mind to!
What is the funniest story you have about a DJ gig gone cray cray?
I recently played a show in Pittsburgh where my car got broken into while I was inside the venue. When I came out to the car to get my CDs for the performance, my window was broken and my CD wallet stolen! I came back into the venue and disappointingly let the promoter know that I wasn't going to be able to play the set. I then started driving back from the show and when I got about two blocks away; I noticed that there was one CD left in my CD player which was not taken. I promptly turned back around, ran back into the venue, and took the stage armed with only one copy my newest compilation mix. This might sound crazy, but I then proceeded to DJ the remaining CD that the thief had left in my car… and the crowd LOVED it! All things considered, I had a great time regardless, and it felt great to give the people a show while overcoming adversity at the same time!
For more info on Braxtek please check out https://www.facebook.com/GangstaFun
PRESS
"Wow! Both tunes are sick. Really good production" – Obsidian
"The spook level is through the roof, I love em!" – Meliss FX
"We play both of these songs in every set. #Swag" – Dumbsteppaz
"Perfect execution of inspiration to reality. Great tunes." – Jumpshot
"Boylerz approves this message." – Boylerz
Show some love for Synth City:
www.synthcity.net
https://www.facebook.com/synthcityrecords
https://soundcloud.com/synthcityrecords
https://twitter.com/synthcitymusic
http://www.beatport.com/label/synth-city/14966
GANGSTA FUN LINKS
GANGSTA FUN on Facebook
GANGSTA FUN on SoundCloud
GANGSTA FUN on Twitter