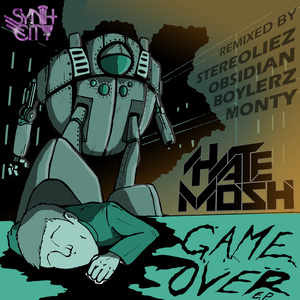 TRACKLIST
1. Game Over (Original Mix)
2. Game Over (Obsidian Remix)
3. Game Over (Stereoliez Remix)
4. Game Over (Boylerz Remix)
5. Game Over (Monty Remix)
ABOUT
Synth City presents our newest flavor "Game Over EP" by Hate Mosh. It has enough remixes to bump every room at the party. This long awaited release is going to blow your socks off.
Hate Mosh, a bass driven Italian duo is a project developed during the summer of 2010 by Phil & Nico. They cultivated their passion for music in the underground scene of Milan, and their explosive styles are mastered in Dubstep and Drum & Bass. They have perfected this art by training with music guru and one of the greatest Italian producers, Gigi Barocco.
This screechy hard hitting EP will take you on a journey through the genres including Dubstep, Electro & Drum & Bass.
We have some of the finest remixes on deck for this one, including one of our own, Obsidian. This release is getting support from the 4 corners of the earth. Don't miss out!
Show some love for Synth City:
www.synthcity.net 
https://www.facebook.com/synthcityrecords 
https://soundcloud.com/synthcityrecords 
https://twitter.com/synthcitymusic 
http://www.beatport.com/label/synth-city/14966